If you have concerns over the shape, position or colour of your teeth, Dental Veneers can now offer an ultimate smile makeover without the need of undergoing major surgery. It is a great cosmetic dentistry option for all.
Usually chosen to improve or enhance the appearance significantly, skilled cosmetic dental surgeons create veneers to bond them over your natural teeth. It is a non-invasive dental treatment that can get done in just a single sitting!
What are Veneers?  
A Dental Veneer is a thin custom-designed piece of material or shell that is made to match your natural tooth colour and shape. Based on your needs, you can get one or a whole set of veneers. It is one of the most elegant choices of cosmetic dental treatment today and doesn't even involve any significant procedure.
Who needs a Dental Veneer?
Many people may feel self-conscious about their teeth or unsure about their smile. It could be due to a broken, protruding, chipped or stained teeth or because of their uneven structure or a missing tooth. Perfect to cover a badly damaged, cracked or broken tooth or used to close a small gap between teeth; a Veneer can also flawlessly replace a lost tooth.
Benefits of Wearing Veneers
A Veneer is long-lasting, resistant to stains and a great way to flash that winning smile!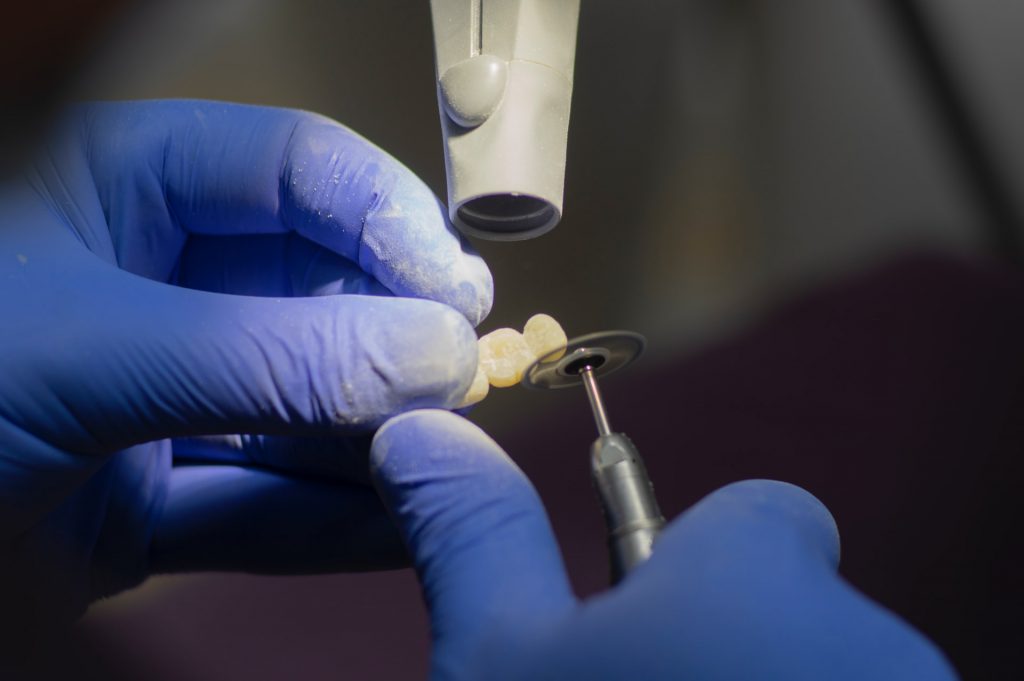 Types of Veneers
Composite Resin Veneers
Composite Resin Veneers are also referred to as Composite Veneer and are cheaper than the more durable Porcelain ones. Made out of resin or plastic these may last up to seven years but can often chip or break easily, requiring a new set. The good thing about composite Veneer is that no laboratory treatments are necessary, and the results are quicker.
Porcelain Veneers
Custom-made to fit your teeth, a porcelain veneer are a great choice as these are made using high-quality hardened ceramic material. A porcelain veneer is extremely strong even in its thinnest form and is less prone to straining or breakages. Their exceptional durability and natural appearance make them a recommended choice.
Apart from these, there are few more veneer options available, and each has distinctive specifications. If you are interested in getting dental veneers, we at Dr Teeth Dental are happy to answer your questions.
Composite Resin or Porcelain. Which ones to choose? 
Simplistic and painless, Veneers are quite versatile and require very less maintenance. The type of dental Veneer you select would depend on your overall diagnosis, cost and dental enhancement. It's a personal choice. You can choose a veneer made of a composite or porcelain material. Each has different levels of durability and lifespan and are both custom-made laminates placed onto the teeth.
How often do Veneers need replacement?

Veneers generally last approximately 8 and 10 years. They do not require any special care other than regular brushing, flossing, and visits to the prosthodontist. If they are properly cared for then they can last much longer.
Can a Veneer Replace a Missing Teeth?
Because a veneer is bonded directly on top of your tooth, it cannot replace missing teeth. A dental implant can replace missing teeth.
Our Approach to Veneers
At Dr Teeth Dental, we offer a range of Dental Veneers to help you improve your teeth appearance and gain that lost confidence back. The entire consultation and dental treatment are carried by a dental professional who first understands your concerns and explains the next steps. Depending on the diagnosis, you may be advised to wear temporary adjustments as it usually takes about two weeks for the customised Veneer to come back from the lab.
Having Dental veneers is a life-changing experience, so rest assured, the Dentist will make sure that your new Veneer will perfectly blend in with your natural teeth to give you that sparkling and impeccable smile!
Call us to discuss how small and simple changes can make a big difference to your SMILE!